Claim your DEMO TechTub FTT600 today!
We offer a special Education "Try before you Buy" program to qualifying applicants which allows teachers to try out a Tech Tub in their classroom to see if it meets their needs before going ahead with a purchase. And best of all, when you decide to go ahead, you save $50 on your first purchase!
How the Program Works
We will send you the latest Premium Tech Tub2 FTT600 designed to accommodate up to six (6) iPads or Chromebooks, or a combination of both to keep in your classroom for 30 days. If you like the product, which we know you will, we'll take $50.00 off the purchase price when you buy. This offer is good for 1 demo Tech Tub2 and $50.00 discount per school.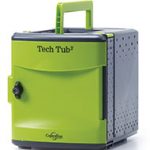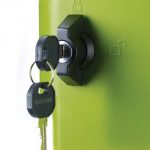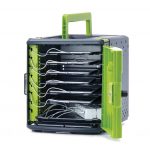 How to Qualify for $50.00 Discount
Try a Tech Tub2 in your classroom! Show us your school spirit and a selfie with your Tech Tub2!
Simply upload an image of your Tech Tub2 stacked with student devices to our twitter page and post a tweet @tech_tubs and receive $50.00 off the demo purchase.
Demo Shipping Details: We're so confident you'll love the product, we will ship the Tech Tub2 to you for free. If you decide not to keep the Tech Tub2, the school will be responsible for return shipping. Once the 30-day promotional period ends, we'll be in touch to finalize purchase or return shipping options.
TechTubs is America's dedicated Mobile Device Charging Solutions supplier. Based in Orlando, FL, we stock some of the most popular TechTub SKU's at our local warehouse – which means you'll get your product incredibly fast!.
If you cannot find a compatible TechTub Solution on our website please call one of our industry experts toll free on 1-800-701-5721. We are the experts and can help determine a solution that meets your needs. We can also provide you with volume pricing. Our offices are open Monday to Friday, 8:30am to 5:30pm EST. Our fax number is 1-800-698-5514.
TechTubs (Head Office):
TechTubs
7685 Currency Drive
Orlando, Florida 32809
USA
Toll Free Phone: 1-800-701-5721
Fax: 1-800-698-5514
Email: info@TechTubs.com
[contact-form-7 id="401″]